If you're looking for a family walk, we love Potteric Carr, a nature reserve with fully accessible nature paths around stunning wetlands.
We have visited in all seasons – wellies on if the weather isn't great, with the promise of a hot chocolate at the end you can't go wrong.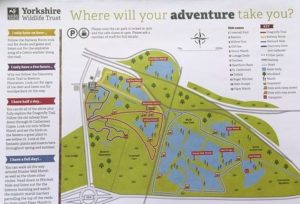 On our most recent trip (Autumn 2020), we did the blue route, which is the longest of the routes available. All of the routes are circular walks ending up back at the Visitor Centre.   The nature reserve is situated near Junction 3 of the M18 and our route took us alongside the railway line, under railway bridges. As well as being a lovely walk, there was so much to see including fish, birds and mini beasts, plus we saw some friendly goats, sheep and cows along the way. There are lots of bird hides along the way and as we had the kids binoculars with us we were able to have a good look.
Over all we walked around 8 miles, but we did do some of the other routes aswell.
If you're after a shorter walk, we have done the yellow and pink trails many times before which are great for little legs. My children have always enjoyed looking out for the wooden carved creatures (there are wooden frogs, dragonflies etc).
We took a picnic last time we visited (we found a bench part way round).
As you reach the end of the route there is a little sensory area with a willow den and some other things to explore.
The Visitor Centre has a cafe (it is open throughout the Coronavirus pandemic for takeaway service…their bacon sandwiches are usually nice!) and there are toilet facilities including baby change and disabled access.
Potteric Carr is managed by The Yorkshire Wildlife Trust and entry is:
Adults £4.50
Children £3.00
Concessions £3.50
Family £11.00 (two adults and up to 4 under 16's)
Last time we went we decided to get a membership and we were refunded the price of our Family Ticket bought on the day. Family membership was £48.00 and this gives access to other YWT Nature Reserves nearby too. 
Potteric Carr Nature Reserve Visitor Centre, Mallard Way, Doncaster, DN4 8DB
"Assistance and guide dogs are welcome, but due to the sensitivity of habitats and wildlife at Potteric Carr, there are no dogs allowed on the reserve."
Starling Murmurations 
During the winter months, large numbers of starlings visit Potteric Carr and if you're lucky you might see the 'murmurations' (flying flock) in the sky. We saw this one year and it was absolutely amazing to see.