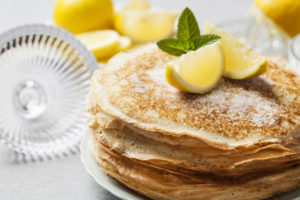 Tuesday 16th February 2021 is pancake day!
As easy as it seems I once made a right mess of making pancakes, so I thought i'd share a fail safe recipe that I always use from BBC Good Food!
Easy Pancakes
(This makes the larger, thin, flat pancakes)
Ingredients
100g plain flour
2 large eggs
300ml milk
1tbsp vegetable or sunflower oil
Lemon or Oranges, sugar or maple syrup, blueberries, strawberries or chocolate spread – anything you want on top!
Method
Put the flour, eggs, milk, oil and a pinch of salt in to a bowl or large jug then whisk to a smooth batter.
Set aside for 30 mins to rest if you have time (let's face it we don't have time) so cook straight away
Set a medium frying pan over a medium heat and add a little oil for frying (or wipe with oiled kitchen paper)
When hot, cook your pancakes for 1 minute on each side until golden. (The recipe says to keep warm as you go in a low oven, but ours don't last that long – they're eaten as soon as cooked!)
Serve with your favourite topping.
Mum tip – you can layer the pancakes between baking parchment and then wrap in cling film and freeze for up to 2 months! Who knew!
Source https://www.bbcgoodfood.com/recipes/easy-pancakes
Happy Pancake Day!
For American Pancakes see recipe here https://www.bbcgoodfood.com/recipes/american-pancakes
For Gluten Free Banana Pancakes see here https://www.bbcgoodfood.com/recipes/banana-pancakes