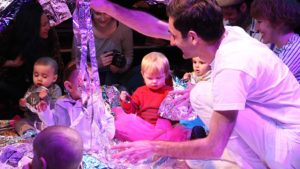 A shimmery Shiny Show for babies aged 0-18 months and their grown-ups. The perfect treat for your baby's first Christmas.
9th -11th December. 10.30am, 12pm, 2pm (Monday) & 10am, 11.30am, 1.30pm (Tuesday & Wednesday)
Come in, relax, find a space and settle.

Slowly, a shimmering surface emerges.

What does it look like? How does it move?

Listen, what can you hear?

Welcome to the world of shiny things. 

Welcome to Glisten!
Join us on a gentle journey exploring the world of reflective materials. Watch as the empty space of the theatre fills with colour, sound and surprises, creating a multi-sensory landscape.
At the end of the performance, babies and parents are invited onto the stage for fun play time with the fabrics and materials featured in the show.
Length: 35 minutes
Tickets £5 (£3.50 nursery).
Special Offer for Mumblers, Monday 9th December only – quote code 1STXMAS online or at the box office to get all tickets at £3.50 each. 
Box Office 01302 303 959
Cast, Waterdale, Doncaster, DN1 3BU