Via Doncasters Families Information Service
Fascinating online courses for everyone who wants to be an even better mum, dad, grandparent or carer from bump to 18 years. 
You've got lots going on, whether you have just had a baby, managing babies and toddlers through isolation or juggling home learning with children at home!
You want to do the best for your child and you may have accessed websites, videos or books for advice. Ourplace have created in-depth courses based on established psychological and child development theories, which you can access in bite-sized 15-20 minute chunks.
Their popular online course about 0-18 year olds was the first to be awarded the Government's CANparent Quality Mark. Their trusted online antenatal course was designed by Registered Midwives and health professionals. Their postnatal course was designed by health visitors and health professionals.
Here are some online resources and courses for you to enjoy, and to help you develop as a parent as your family grows.
The following courses are available FREE with the code below:
 Understanding pregnancy, labour, birth and your baby
 Understanding your baby
 Understanding your child
 Understanding your teenager's brain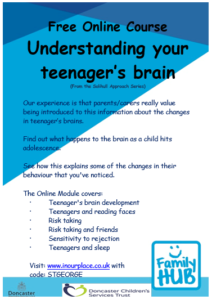 To access the online courses, visit www.inourplace.co.uk and enter the free access code STGEORGE. Once you have registered you will have lifetime access.