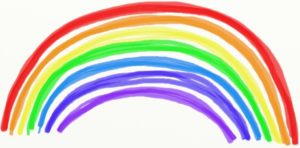 Thank you to Mumbler Lisa for sending this idea to me! I thought it was a great one worth sharing…
Whilst the children are off school, they might like to take a walk around the streets where they live and usually go to school. How often do they really pay attention.
The residents and fellow school friends could make a Rainbow picture and put it in their window.
We can see how many rainbows the children can spot whilst they are on their walk. It's a virtual game of eye spy!
What a great opportunity to spread a little happiness.
I've whipped up a downloadable rainbow picture to colour in here – Mumbler Rainbow Trail
If you go on a walk and see Rainbows, share how many you have seen with us over in the Doncaster Mumbler Parents Chat Group!